Therapy
Remove Pain, Stress and Discomfort from your experience with highly effective CranioSacral Therapy, and Lymph Drainage Therapy from Barbara Nelen, LMT, CST, CNMT, CHC, and HealthTouch Bodywork Systems.
Testimonials
If you need further proof of the effectiveness of my services, Such as CranioSacral Therapy, Lymph Drainage Therapy, and Certified Health Coaching, take a look at the testimonials provided by some of my satisfied clients.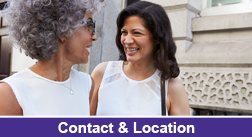 40 Years of Study and Experience in Healthcare and Bodywork


Learn about Barbara Nelen, CranioSacral Therapist, Advanced Lymph Drainage Therapist, Certified NeuroMuscular Therapist and Certified Health Coach
My name is Barbara Nelen, LMT, CST, CNMT, CHC and I provide pain relief therapies and Health Coaching as the owner of Winter Park Florida's HealthTouch Bodywork Systems. My goal is to help women in pain, stress, and discomfort rebalance their lives in an effective and elegant way.